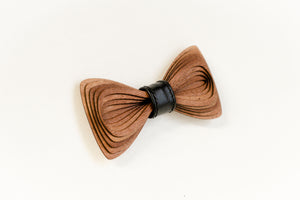 This Söör wooden neckwear is made in collaboration with Naskali Leather. Unique and handcrafted Finnish design by Hermanni Vuorisalo and leather parts made by Naskali Leather from old boxing gloves and a surplus of leather. The values of the circular economy have brought these companies to work together.
Wood: Mahogany
Origin: Africa
Fabric: Recycled leather from boxing gloves from Jyri Naskali
Color: Black
Ribbon: Surplus leather, adjustable 350-600mm
Every SÖÖR wooden bow tie is hand crafted at Hermanni Vuorisalo's shop in Turku, Finland. Ethics and ecology are the backbone of Hermanni's design. No colourants, solvents or toxins are used. All bowties come in a custom made box made of heat-treated birch tree from Central Finland, also designed by Hermanni. HERMANDIA Collection Bow ties come with new tray that makes traveling with SÖÖR much safer. The new bow ties come also with new choker that keeps SÖÖR bow tie sturdy and straight.